DOWNTOWN CENTER FOR THE ARTS
The Arts Council of Winston-Salem
305 West 4th Street
Winston-Salem, NC 27101
Call for public art in two sites
Downtown Center for the Arts
Sawtooth Building
Winston-Salem, North Carolina
Submission date: May 15, 2009
Artist: Roger Arvid Anderson
Proposal for the MAIN ENTRANCE LOBBY
Title: ORION
Medium: Cast bronze with a fabricated bronze base topped by a plate of stainless steel
Dimensions: Orion plus base
H: 6 feet 4 inches W: 3 feet D: 26 inches
Proposal for the
HANESBRAND THEATER LOBBY WALL
A selection of cast bronze RETABLOS incorporating words associated with theater and dance
STATEMENT OF INTEREST
The Sawtooth Building is a celebration of the diversity of art forms available to the community through the revitalized Downtown Center for
the Arts. Those forms range from Theater and Cinema to Dance and the Visual Arts.
Although a sculptor by training I am not a one medium artist and I find this range enriches my life and work. I've had a reading of a new play recently and am currently working on my 5th screenplay with a young director. I won poetry awards at both Dartmouth and Cambridge and am currently preparing a manuscript for publication. In light of my literary pursuits I AM ESPECIALLY INTERESTED IN INCORPORATING LANGUAGE AND WORDS IN MY SCULPTURES.
For the 'Hanesbrand Theater Lobby Wall' I am proposing to hang on the wall a number of BRONZE RELIEFS based on the concept of the RETABLO incorporating words associated with Theater, Cinema and Dance.
Historically a retablo is a sculptural framework meant to hold a painting or another sculpture such as a relief. I see my retablos in the context of the theater wall as MINIATURE MARQUEES for setting off words celebrating theatre, cinema and dance. The retablos would be CAST IN BRONZE and patinated in a variety of colors appropriate to the color scheme of the Theater Lobby. The words would be highlighted in silver.
For the 'Main Entrance Lobby' I am proposing a cast of my large bronze sculpture titled ORION, which belongs to a series called Constellations which by texture and intent could be thought of as anthropomorphic meteorites. Since the stars are symbolically elemental points of inspiration my sculpture of ORION would be your star-in-residence. The base of the sculpture would be fabricated from sheet bronze topped by a platform made of stainless steel.
Both the Retablos and other sculptures in my series of Constellations can be seen in depth on my comprehensive website: www.rogerarvidanderson.com.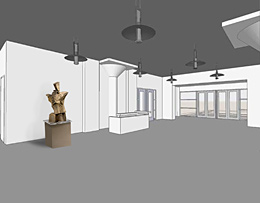 Main Entrance Lobby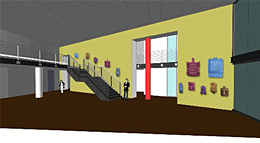 Hanesbrand Theater Lobby Southwest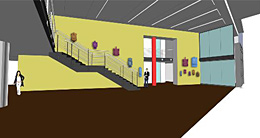 Hanesbrand Theater Lobby Wall