A personal essay by Roger Arvid Anderson
June 6, 1986
FOUR WORLDS
I come from four worlds. The future may bring others, but at the moment I look back upon the American Midwest as well as New England, old England and California as both places of residence and places that inhabit me: in my speech, in my clothes, in my attitudes. They're entries in the encyclopedia of images I open when I dream. I have what could be called a multiple cultural personality disorder. But giving it order, and that's what artists do, is the task at hand. First of all, I inherited a Scandinavian name and demeanor, as well as an attachment to my grandfather's stubborn need to know. "I'm too busy to die!" was his motto and he took to the world as Vikings do to water. I have the same travel gene and it's taken me just as far. At nineteen I left the Land of the Lakes for the banks of the Connecticut River. That stint in New Hampshire means I'm likely to like my Yankee's wry and my shirts made of flannel. A stay in old England has meant I'm likely to like my meals in Italy but prefer a poetry that's understated. What about now? After crossing all those continents, oceans and bridges, here at the end of the world, right here in Fog City, I'm asking myself, can I look at the past and see the future? Am I the sum of my parts?
My hometown on the Mississippi is as far north as the steamboats could go. It's the town of Paul Manship, the sculptor of the gilded Prometheus that adorns Rockefeller Center. It's also the town of F. Scott Fitzgerald whose novels and short stories gild the Jazz Age. Nevertheless St. Paul, Minnesota is still the sleepy town Jay Gatsby abandoned for Oxford and the neon of New York. I must have picked up the same map, except I went to Cambridge and ended up at a psychedelic party called San Francisco in the Seventies. Like Gatsby I'm something of a personal invention. Maybe I'm just one more postwar baby, nevertheless, a baby born in a shadow, but what a magnificent shadow! The hospital happened to lay behind the State Capitol whose graceful dome is a copy of Michelangelo's Vatican masterpiece. I worked summers in City Hall, a Deco tower with an onyx Indian two stories high. I spent lunch hours at the Public Library, which had the serene proportions of an Italian palazzo. Consequently I'm not surprised my first sculptural works were really architectural. In the big field across from my father's house I regularly attacked the earth mounds left by the woodchucks. I'd re-carve them into elaborate fortresses and cities.
In school my propensity for the grand statement was put to work on giant murals done in crayon on huge sheets of paper. I did a dragon for a dining hall that was so colorful and menacing that a visiting clergyman asked for it to be removed and destroyed. That was my first taste of censorship. In High School I was hot for the German Expressionists and then just as hot for the slap and dash of the Abstract-Expressionists. But it was the Age of Aquarius and Pop Art, which was way too cool for an overheated Leo. I was already an outsider. I subsequently jumped at a chance to move east. I attended Dartmouth College and calmed down. I joined the poetry tables and won a fellowship to Cambridge where St. John's College had not only the Bridge of Sighs, but an intricate warren of historical buildings that stretched back to the year 1000. I was in heaven, and moving as the stars do I spent two years traveling all over Europe: Athens, Rome, Vienna, Prague, Berlin, Stockholm, and of course Paris.
When I returned to America I moved from one Cambridge to another. It may have been only a year, but it was a redressing of sorts as I began to draw and paint again. This time though I had cooled down as I conscientiously took the necessary steps to teach myself a methodical realism. I called it "getting a good grounding". Unfortunately in the autumn of 1971 I contracted a rare ear virus. After a harrowing bout with deafness, once my hearing returned, I was advised to drop Massachusetts for a warmer climate.
In January 1972 I moved to San Francisco and entered another world, my fourth world, a world that no longer looked over the Atlantic, but south to Mexico and over the Pacific to the Orient. I continued my realistic drawing, using my new friends as models, but the discovery of a Chinese bronze bell, exactly two hundred years old, intrigued me. Its shape was archaic and it was covered with calligraphy in raised relief. I began to collect bronzes from a variety of cultures and was finally tempted to do them myself. In 1974 I began my studies in earnest by taking a casting course at the Berkeley Art Foundry. One look at the golden glow of the crucible and I was caught, yes, I was hooked by the magic of the metal. Now making it do what you want to do is another matter. My first works were clumsily rendered in wax. To give them their due, they reflected my devout interest in realism and were inspired by the Italian Renaissance statuettes I had seen in the Bargello in Florence. Still a great change was in the air. Thanks to a political thaw the first of the great Chinese Exhibitions came to San Francisco in the summer of 1975. The bronzes were breathtaking and had only recently been uncovered by archaeologists. I was immediately inspired. A sudden sense of powerful stylization and utilitarian abstraction seemed to jell with my childhood feel for architectural structure. I began to use wax streets to construct rather than model my sculptures. The first piece done in this new manner was a mask. That was 1976, and it took two more years before I made the breakthroughs I was looking for. In 1978 I designed a striking horse head as well as a vase cascading with a drip pattern that recalled my early love of the Abstract-Expressionists. I was becoming a man of many parts, a juggler of influences and images.
I've also had to juggle a number of careers. My education may have prepared me for the American Foreign Service, but I soon found myself working instead for the San Francisco office of the National Film Board of Canada. I distributed Canadian documentaries, animation and travel films to libraries throughout the American west. Despite the fine films I represented I was not happy as an administrator. In 1979 in a budget cut Ottawa closed my office. It was a mixed blessing. On the one hand I was excited by my growth as a sculptor. On the other hand I needed a job: this time as the distribution manager for the Western Journal of Medicine. Then disaster struck. It didn't seem like much at first: a simple running accident at the gym, but the cartilage in my knee was crushed. My knee did not heal as expected. Exhausted by pain and loss of sleep I came down with a form of bacterial pneumonia so virulent that in February of 1981 my head and sinuses were so inflamed I couldn't stand light. I had to be isolated in a dark hospital room where I nearly died. Once my lungs healed the doctors operated on my knee. I weighed 115 pounds. A year of convalescence followed. During the worst of the fevers I promised myself that if I lived I would not go back to my office job. I've stayed true to that promise.
1981 may have been a year of crutches and canes, but it was also a year of great creativity. I used this time to sculpt vessels, animals and hieratic figures. As my health recovered I found sufficient patronage to spend several years in an Oakland foundry learning the craft of casting, including making molds and metal-finishing. In just a few years I found I had both cast and finished over 55 different bronzes. At this time I also designed a series of discs that I call, "Metaphysical Landscapes". Why? Imagine the circle of an airplane window as it isolates some curious terrain of the Nevada desert. These discs combine my own feeling for landscape and imaginary architecture within a topographical relief format. My childhood love of earthworks has indeed endured.
I don't try to deny that I'm subject to influences. Who wants to live in a vacuum? Art is about making choices. Nothing primal is new. Instead it's the new combinations that matter. I find ideas everywhere: the personal, the current, the ancient. Call me tribal. Call me a futurist. You could even call me a geological cubist, and yet I don't tire of the Renaissance either. Civilizations come and go. Lost underfoot one world, or for that matter four worlds, can rise again to refresh another. Images help us connect. In that sense my bronzes talk for me, and if they're truly loquacious they'll talk to you now, or perhaps to another you, in a millennium or two.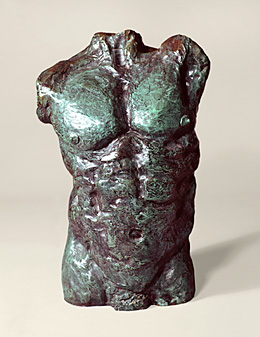 TORSO, 1979 bronze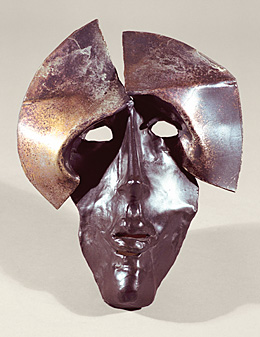 MASK, 1976 bronze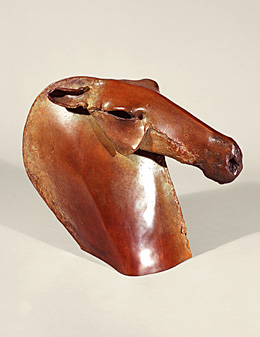 HORSEHEAD, 1978 bronze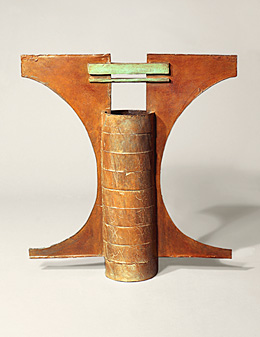 VASE WITH FLARING WINGS, 1980 bronze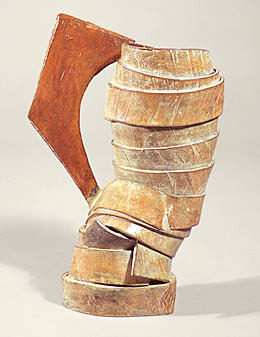 TANKARD, 1980 bronze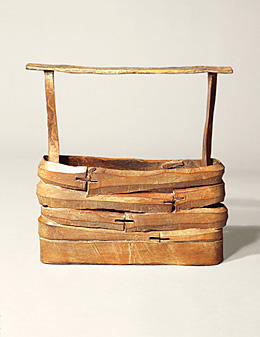 BRONZE BASKET, 1980 bronze